Welcome To Indian Restaurant Ganesha
Discover Our Story
The Ganesha restaurant is in the heart of Amsterdam, close to the Central station. A perfect base for a day to end with Indian traditional dinner or you can continue your journey to nightlife in Amsterdam. The dishes are traditionally prepared. Also for people who have no experience with Indian food, it is definitely recommended to visit this restaurant. Do not be afraid of hot dishes. Our cook has thirty years experience and will cook according to your taste. It is a delicious experience, you should definitely try it. Not only for beginners but also a culinary experience for people who appreciate Indian cuisine. The NAAN, a traditional Indian bread, is also prepared in the clay oven at the same time , so it is always delicious, as it should be.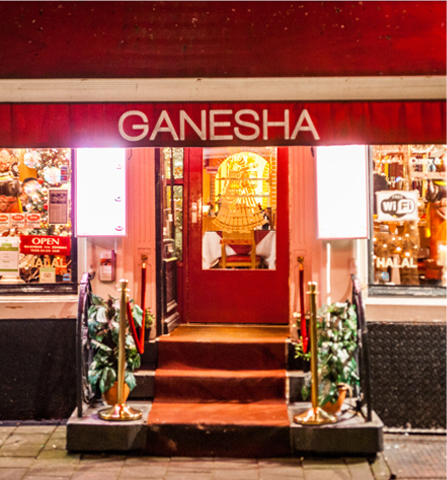 Book your table
Now Online
Download de voucher
bon
geachte klant,
Download hier uw gratis kortingsbon. Met deze voucher krijgt u 10% korting op de rekening in ons restaurant. Deze voucher is alleen geldig tussen 12:00 en 18:00 uur en alleen voor maximaal 4 personen. Deze promotie is alleen geldig als u dit vooraf meldt en niet in combinatie met andere promoties.
Om deze voucher te kunnen downloaden, moet u uw naam en e-mailadres invoeren. U ontvangt een link per e-mail om uw persoonlijke voucher te downloaden.
Contact
Information
Working Hours
mandag-zondag: 17:00-23:00
Restaurant Gallery
photo's
We gingen er op onze laatste nacht in Amsterdam. We vonden het per ongeluk (het was in de buurt van het hotel). Het was een zondag, weinig mensen waren aan het dineren, maar het personeel was erg vriendelijk en gaf suggesties. Een oudere heer, we denken dat hij misschien de eigenaar was, was zeer behulpzaam in menu selecties en voor vragen over het eten.
- Denver_Mullican
Zodra we deze plek binnenliepen en de curry rook, wist ik dat we een winnaar waren. Curry was zo authentiek en vers gekookt. Ik had de lam Jalfrezi en het lam was zo zacht en smakelijke voeding. Pratha was licht en luchtig. Mijn moeder had een voorgerecht als hoofdgerecht en genoten van de sheek kebab. Leuke frisse salade ook. Familiebedrijf en zo gastvrij. Dank je
- Jane P